Heart of Laponia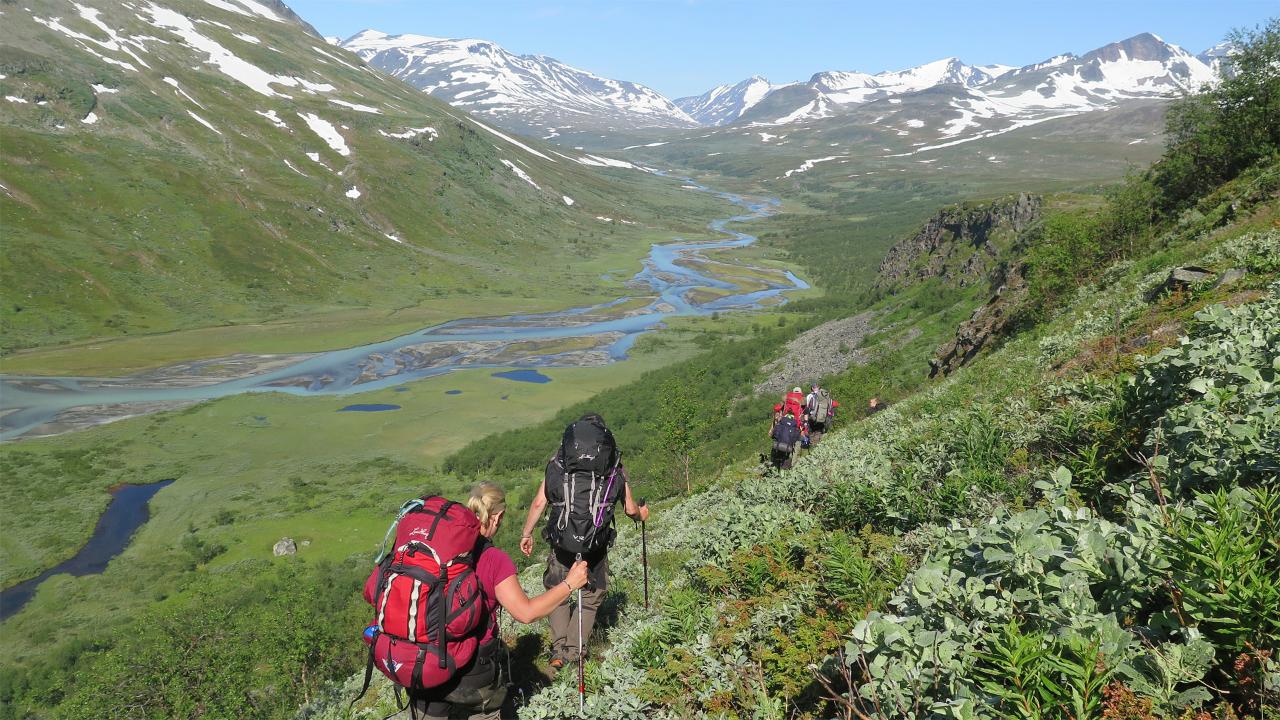 Duration: 7 Days (approx.)
Location: Jokkmokk, Norrbottens län
Product code: HikeLaponia
Discover the amazing nature of Laponia World Heritage site with a light backpack
We'll hike in Laponia World Heritage site with light steps and a light backpack enjoying beautiful mountain views. We meet up in Jokkmokk but the hiking begins in Vaisaluokta after crossing the lake Akkajaure with a boat. The trail will take us to Kutjaure Sami settlement and the cabins in Gisuris and Akka, with day hikes in Padjelanta National Park and Sarek National Park. Each night we will sleep in comfortable beds in charming mountain cabins, without electricity and running water. We'll cook a nice dinner together in the evening and take the chance to enjoy freshly baked local bread and fish from the lakes.
The UNESCO World Heritage site Laponia includes four National Parks: Padjelanta National park, Sarek National Park, Stora Sjöfallet National Park and Muddus National Park. It also includes the nature reserves Sjaunja and Stubba. The World Heritage site Laponia is Europe's biggest coherent area of wild nature, with high peaks and mountains, glaciers, deep primary forest and big mires. The area became a World Heritage site because of its unique combination of nature and culture, combining the living Sami culture and an inalienable nature. During our days in Laponia World Heritage site we will enjoy vast mountain moors, snow covered peaks and roaring wide streams. We have plenty of time to learn more about the nature and the Sami culture in Laponia and discover the enthralling history of the area. Take the chance to discover Laponia World Heritage site, where the reindeers roam free and the nature will enchant you.
This hike is for you who…

…who want to stay in cabins and hike with a light backpack in the heart of Laponia World Heritage site. To join our hike in Laponia you
must be able to hike around 15-20 km per day in hilly terrain and carry a backpack of about 5-8 kg. Recommended age from 16 years old. Please
contact us if you have any questions regarding your physical ability or experience level.
The plan is to:
Experience Laponia World Heritage site
Enjoy spectacular mountain views
Learn about the Sami culture in the area
Eat local and fresh fish from the lakes
Hike with a light backpack and stay in cozy mountain cabins
Taxes and fees
All taxes and fees are included in the price
Last minute:
Online bookings can only be made until 7 days before the tour starts. For last minute bookings please contact us for availability check.
Contact information
Mail: info@laponiaadventures.com
Phone (Christian): +46 70 260 05 37
Phone (Mirja): +46 70 547 97 10