Sarek Adventure trek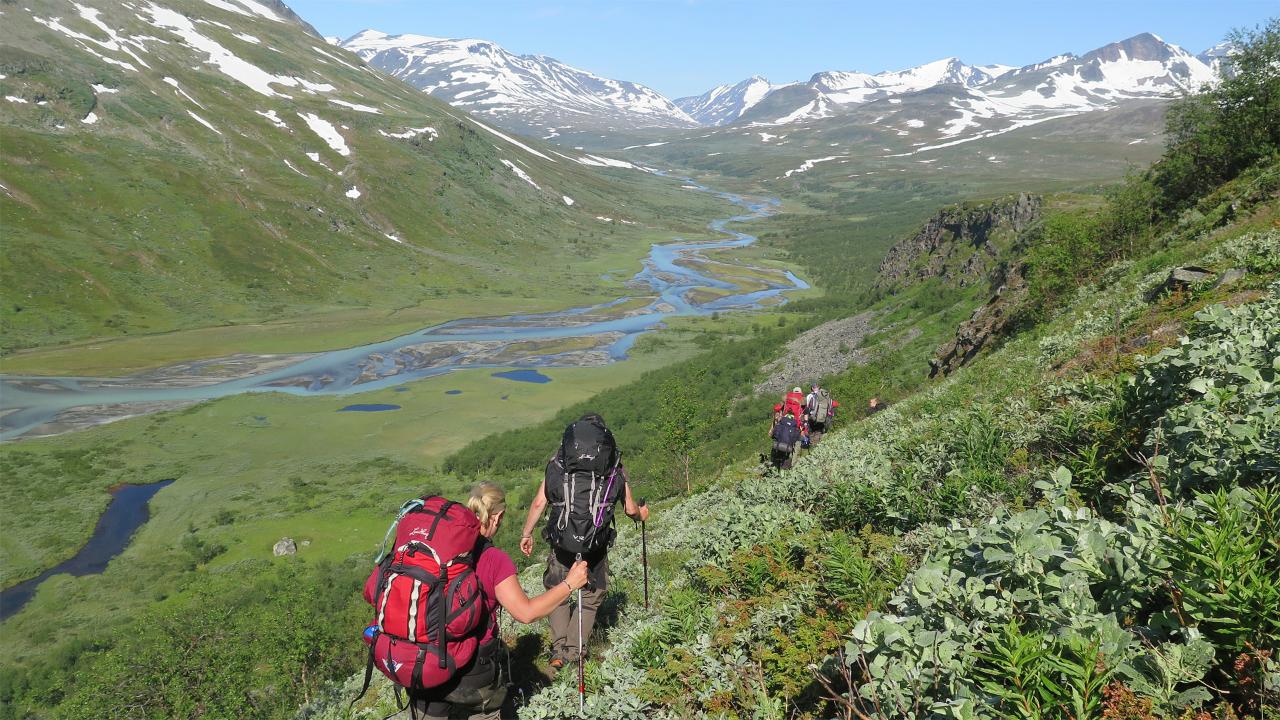 Duration: 9 Days (approx.)
Location: Jokkmokk, Norrbottens län
Product code: HikeSarek
Trek in the wildest National Park in Sweden
Hike in Sarek national park and visit our favorite spots in the wildest area in Europe. We travel across rivers and open tundra but also through barren rocky valleys and among high mountain birch trees. The impressive delta landscape in Rapa valley is a popular grazing area for the great Sarek moose and buzzards and other large birds of prey thrive in the surrounding cliffs. Sarek National Park is an high mountain area without any marked trails and together we navigate along unmarked trails and off-trail. Every night we find a place to set up our tents and cook a proper dinner together. We start the hike along Kungsleden, the most famous trail in Sweden and end at Skierfe, a 700-meter high cliff at the mouth of Rapa valley.

Sarek national is the largest high mountain area in Sweden and one of our oldest and largest National parks. It is also part of the UNESCO world heritage site Laponia, protected for its unique combination of culture and nature. Within Sarek National Park you'll find no less than six peaks over 2000-meters and over 200 glaciers. Since thousands of years, the Sami people have migrated with their reindeers through Sarek National Park creating winding trails along the valleys. The researcher Axel Hamberg have spent years in in the area and during World War 2 and a British bomber crashed in Sarek National Park.

This hike is for you who…
… have experience from trekking and wants to experience the remoteness of Sarek national park. To join this hike in Sarek you must be able to hike between 15-20 kilometer per day in terrain with moderate differences in altitude, and with a backpack of around 20 kg. We will mostly follow game trails but also hike off-trail. You should be prepared to do several river crossings but also pass rocky sections and smaller snow fields. Recommended age from 18 years old. Please contact us if you have any questions regarding your physical ability or experience level.

The plan is to:
Enjoy dramatic mountain views over Rapa valley
Experience fellowship and team spirit
Look for the biggest moose in Europe
Eat well and feel good
Get physically and mentally challenged
Taxes and fees
All taxes and fees are included in the price
Last minute:
Online bookings can only be made until 7 days before the tour starts. For last minute bookings please contact us for availability check.
Contact information
Mail: info@laponiaadventures.com
Phone (Christian): +46 70 260 05 37
Phone (Mirja): +46 70 547 97 10