Across Padjelanta National Park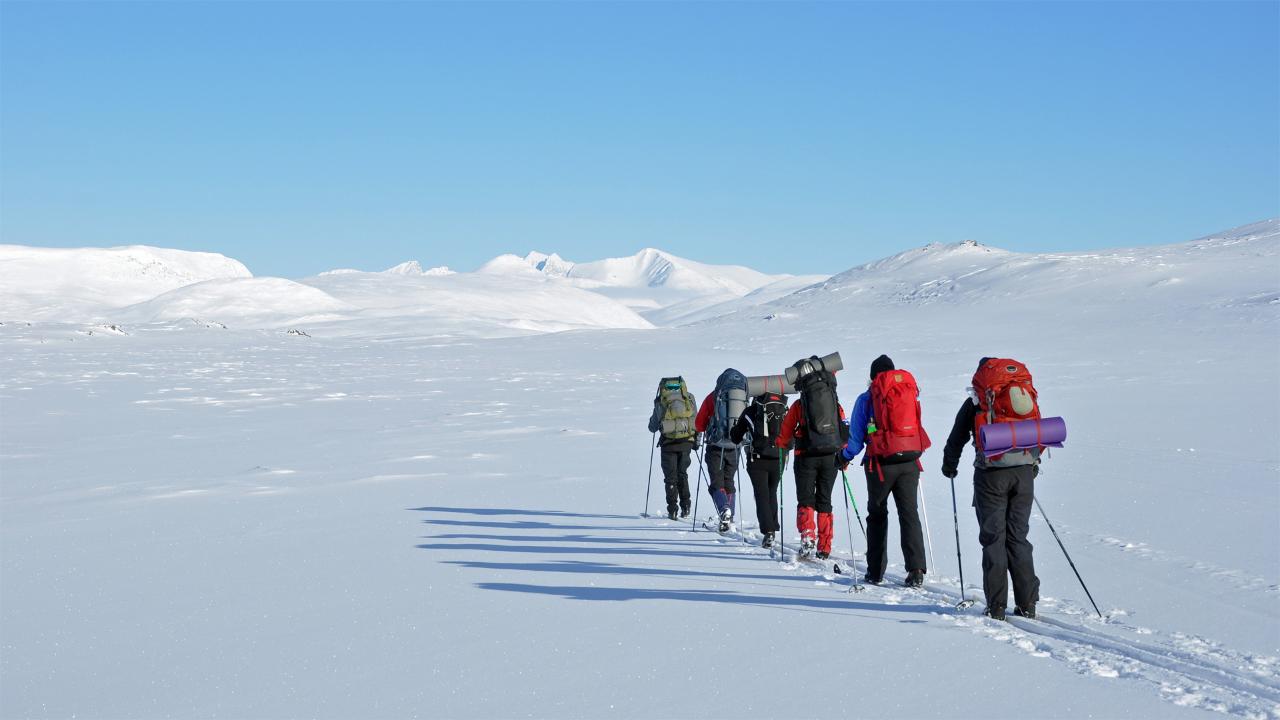 Duration: 9 Days (approx.)
Location: Ritsem, Norrbottens län
Product code: SkiPadje
A ski tour between cabins in our most remote National Park
Discover Padjelanta National Park on skis and visit the most remote area in Sweden. Together we travel from hut-hut enjoying the arctic spring during the days and sleep well in comfortable beds in the night. If we are lucky we may see moose, wolverine or ptarmigan, animals that all have found a way to survive the winter on the arctic tundra. Padjelanta, or the higher land as it is named in Sami, is where the reindeer calfs are born and in the summer the Sami settlement are full of life. During winter though, you can travel across Padjelanta on skis for days without seeing anyone.

Padjelanta national park is the largest national park in Sweden and part of Laponia World Heritage Site. The almost 2000 square kilometers consists of an vast and open landscape with round mountain peaks and great mountain lakes. We will start our tour in Kutjaure, just north of the border to Padjelanta National park and travel across Padjelanta on skis to the Tarra valley in the south. On our route, we'll pass close to the most remote point in Sweden where you are as far away as possible from any roads and civilizations.

This tour is for you who…
…want to experience the remote landscape in Padjelanta National Park but still have the convenience of staying in heated cabins during the night. To travel across Padjelanta on skis you'll need to be a fairly strong skier and be in good physical shape so that you can be active and pull a pulka all day. The itinerary includes several longer days with distances over 20 km off-trail. Recommended age from 18 years old. Please contact us if you have any questions regarding your physical ability or experience level.

The price includes:
Local English and Swedish speaking guides
Accommodation 8 nights
Full board with all meals
All safety and skiing equipment
Round trip transportation from Jokkmokk
Add-ons:
Pick-up in Luleå: SEK 1000
Drop-off in Luleå: SEK 1000
Single/double room supplement first and last night: SEK 450/person
Beverage at restaurants
Taxes and fees

All taxes and fees are included in the price
Last minute:
Online bookings can only be made until 7 days before the tour starts. For last minute bookings please contact us for availability check.
Contact information
Mail: info@laponiaadventures.com
Phone (Christian): +46 70 260 05 37
Phone (Mirja): +46 70 547 97 10